| | | |
| --- | --- | --- |
| Welcome | | You are not currently logged in. |
| | | |
| --- | --- | --- |
| | | |
| | | |
| | | |
Teamsters Local 728 has just launched a new and improved tool for communicating directly with members throughout Georgia.
Ever miss information about the next union meeting, action, contract update or important legislation ? If so, we want to fix that!
Sign up for Teamster Local 728 Text Updates!
Simply text: 728 to 86466
Stay informed and involved with your local union.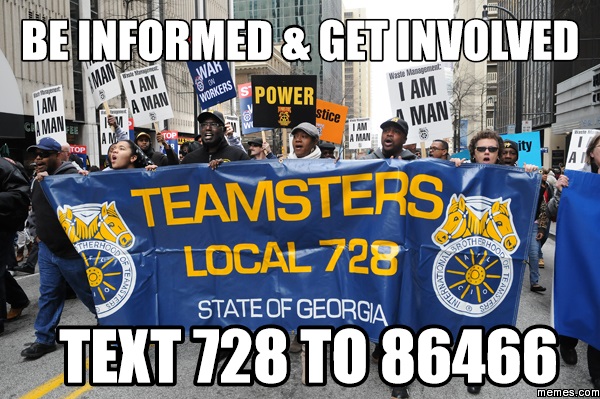 LEARN MORE ABOUT THE CENTRAL STATES PENSION FUND RESCUE PLAN
INFORMATIONAL TELEPHONE TOWN HALL MEETINGS ON APRIL 14TH, 2015
PLEASE VIEW/DOWNLOAD ATTACHED PDF FILE
FOR MORE INFORMATION, VISIT:
http://WWW.CSPENSIONRESCUE.COM
Download:

201504101329.pdf
Teamsters Local 728

has produced a new video updating our members on recent changes to CDL license requirements in Georgia.The Department of Driver Services provided a CDL license training for Teamsters Local 728 members in the movie industry in Georgia. Watch to learn about what you need to know about recent changes in the law impacting commercial drivers in our state. Check it out!



https://www.youtube.com/watch?v=IxszCPJfZ6Y&feature=youtu.be
Teamsters Local 728 is sponsoring our third annual Legislative training and Lobby Day. If you are interested in helping to stop the war on Georgia's working families, this is will be the place to be! Local is joining with the Georgia AFL-CIO to host the training and lobby day. Read More...
All ballots will be mailed to the member's last known address as of Tuesday, November 19, 2013. If you have moved, please contact the Local to update your address information immediately. Ballots will be mailed on Friday, November 22, 2013. If you do not receive a ballot by November 30, or you need to request a replacement ballot package be sent to you for any reason, you may request one by calling the Election Consultant at 877-324-7655. This 24 hour line will require you to leave a message, including the last four digits of your social security number. Your request will be mailed on the next scheduled mailing date by the Election Committee.
Local 728 UPS members are organizing parking lot meetings to better communicate and share solutions to common workplace problems such as harassment, supervisors doing bargaining unit work and payroll errors to name a few. This past Thursday, UPS Pleasantdale preload members met to discuss recent issues with disrespectful behavior by supervisors on their sort. Read More...
At the nation's fourth busiest port, truck drivers are organizing for a voice and respect on the job. The drivers haul billions $ in freight for global retailers like Wal Mart, Home Depot and Ikea. 'Like' their page today on Facebook https://www.facebook.com/StandUpForSavannah or visit their website at http://www.standupforsavannah.com/index.html. Join the port drivers organizing with Teamsters Local 728 as they 'Stand Up for Savannah'.

Proposed Five-Year Contracts Protect Strong Health Care Benefits While Significantly Increasing Funding For Pensions, Health And Welfare Funds Read More...
Read or Download the New Teamster Local 728 Work Newletter Today!
Extremist lawmakers on Capitol Hill are calling for cuts to Social Security, Medicare, and education as ways to reduce the national deficit. We need reasonable fiscal policy – not harmful cuts to the vital programs that we all pay into and rely on. Reducing the deficit on the backs of the middle class is just plain wrong. Read More...
In 2012, Local 728 organized 547 new members through planned internal and external organizing campaigns . Read More...
By April Hunt From The Atlanta Journal-Constitution More than four years without a raise has prompted some of the most public faces of DeKalb County's workers to petition for a union. More than 85 percent of the county's 450 sanitation workers who work from the garbage trucks have petitioned for the county to recognize Teamsters Local 728. Read More...
Local 728 has produced a new video to welcome New hires at UPS and introduce them to our union.
"We have people being put outdoors. People don't have food to eat," says Local 728 Steward Jerome Irwin.
In this report, WTOC-TV, Savannah covers Teamsters Local 728's efforts to restore earned benefits to 64,000 Georgia workers.
Thousands of Georgia workers are struggling and desperate this summer because of a sudden decision to end the small weekly stipend they earned during the school year. Some are losing their homes. Some are losing their cars. Their phones are turned off. The food pantries are running out of food. Children are going hungry. Health care? Forget it.
They are contract workers for the state's educational system. They're employed by Sodexo, First Student and Aramark, to name a few. For many years their unemployment benefits tided them over during the summer, when they were laid off. They'd learned to live on the small unemployment benefit they'd earned while going to work every day.
This spring, Labor Commissioner Mark Butler suddenly ordered a stop to those benefits. Workers had no time to plan or to save for the lean months. As many as 64,000 were shocked to find they no longer had the $150-$200 a week they'd worked hard for all year.
There are no jobs now for them in Georgia. There is no pay.
Velmar Hightower and Alvin Edwards stood up and spoke out for their fellow workers. Sister Hightower worked in food service for Aramark at Spellman College. When she suddenly lost her unemployment benefits in May, she got involved with the Justice for School Workers campaign led by Jobs With Justice. But it's been hard for her:
I can't pay my bills. I have no income. I got a letter of eviction and I can't pay my utilities. I'm low on food. I can't pay my car note. My cell phone was turned off. It's hard. I only have my mom, and I'm tapped out borrowing from her. She works at Georgia State for Sodexo, and she's out of work too.
Brother Edwards is a retired deputy sheriff who worked as a First Student bus monitor for special needs children in Savannah. He speaks for the 700 members of Local 728 in Atlanta who lost their benefits.
So many can't pay their light. So many can't pay their water. So many can't pay their rent. We're grateful to the union. People piled in to get a bag of groceries. You hear the stories over and over. We were grateful for the extra cornflakes.
Mark Butler has two children, Sydney and Blake. They look well fed. We're quite certain they get all the cornflakes they want.
- From Teamster Nation
Local 728, Jobs with Justice and victim's of Mark Butler's Draconian cuts will be putting Mark Butler "on trial" for his crimes against the working people of Georgia on August 18th at First Iconium Baptist Church. Flyer attached with details
Download:

Mark Butler on trial.pdf
The distribution drivers for O'Reilly Auto Parts have ratified their first contract with Teamsters Local 728. The unit of about 50 tractor-trailer drivers delivers auto parts from the regional distribution center in Atlanta to O'Reilly Auto Parts retail stores in Georgia, Alabama and Tennessee. O'Reilly is the second-largest auto parts distributor in the country.
"We locked in fair annual pay raises and got commitments from the company to increase the safety of the delivery areas at each retail store," said Ben Speight, Director of Organizing for Local 728. "And, we fought for, and won, bonus pay for Martin Luther King Jr. holiday."
"This contract is the best thing that has ever happened to me at O'Reilly," said Kevin Culberson, a driver and a member of the union's negotiating committee. "I am proud to no longer be an at-will employee and to have strong union representation."
via www.teamster.org
(ATLANTA) – Republic Waste drivers in McDonough, Ga., voted 24-14 to join Teamsters Local 728 on Friday after a hard-fought campaign.
'This is a great victory for our union," said Local 728 President Randy Brown. "It adds another unit to an existing group of Republic workers in the Atlanta area. It goes to show, yet again, that we can organize waste workers in the South."
The organizing victory marked the seventh National Labor Relations Board election won by Teamsters Local 728 this year, including two at Republic.
The drivers were frustrated by wage cuts, intimidation, heavy workloads and management's indifference to their problems.
"They piled more work on us. If you didn't have 358 stops in one day, they took the helper off," said Renard Henley, a Republic driver. "You've got a lot of people, after three years their body has broken down."
"We deal with a lot of intimidation on the job. If you complain about anything, the first thing they tell you is 'There's the door if you don't like that.' We didn't need to hear that. We've got a family just like they do," Henley said.
Founded in 1903, the International Brotherhood of Teamsters represents 1.4 million hardworking men and women throughout the United States, Canada and Puerto Rico. For more information, please visit www.Teamster.org or follow us on Twitter @TeamsterPower.
You can also read about the victory Here